Alabama Insurance Pre License Training
Obtaining your Alabama Insurance License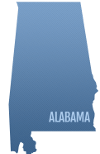 Anyone wanting to become a licensed insurance producer in Alabama must complete a prelicensing course of study for the lines of authority desired before taking the state examination.
The prelicensing course must consist of 20 classroom hours per line of authority and the education must be Alabama State approved. We are your premiere Alabama Department of Insurance Approved pre-license training provider (Provider#: 23300459).
All of our courses include the following:
Follow these steps to become an insurance producer in Alabama:
Complete the required pre-licensing education by registering below.
Take your exam through the University of Alabama.
Complete the online application.
Start selling insurance!
SAVE! New lower prices!