Alabama Property & Casualty Pre-License 40 Hr Class
This 40 hour course is designed to satisfy the pre-license education requirements to become a property and casualty insurance producer in Alabama. It will also help prepare you for the state exam!
In this course, we'll begin with some fundamental concepts in our General Insurance class. We'll talk about what agency is, and the agency relationship between producers and clients. We'll also discuss insurance contracts, what makes a contract valid, and risk management techniques.
Next, you'll learn about ethics, including why ethics matter, what to do in ethically challenging situations, and what the law and Insurance Industy Code of Ethics say about them. Then, we'll tackle some of the federal regulations pertaining to the insurance industry.
The Property and Casualty Basics class will give you a solid foundation in the principles and concepts that these policies are built on. We'll talk about negligence, liability, and damages, as well as common policy structures and provisions.
In our Dwelling Policy class, you'll learn to determine the eligibility of dwellings for insurance policies, as well as to determine the amount of coverage needed. We'll cover some additional conditions and endorsements as well.
Then we'll move into our class on the Homeowner's Policy. This section of the course discusses the structure of a homeowner's policy and the endorsements that can modify the policy.
In our Personal Automobile Policies class, we'll cover the fundamentals of auto coverage, such as liability and negligence. Then we'll explore various auto policy details, before moving on to Commercial Automobile Policies and endorsements.
Our Business Owner's Policies class will teach you some common conditions of this type of policy, along with some endorsements that can be added. After that, our Worker's Compensation class will cover applicable laws, along with disability and premium computations.
Finally, we'll take a look at other coverages like umbrella and excess liability policies, speciality and professional liability insurance, flood insurance, and more. Then we'll wrap the course up by exploring Alabama's insurance laws and regulations that you'll need to know.
This course includes two quizzes and a final exam to help ensure that you're ready for your state test!
Take the first step to become a Property & Casualty Producer, At Your Pace Online!
Show Course ID: 0
Instructor Bio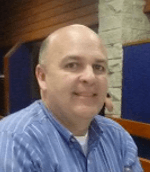 Keith Haley is the Online Insurance instructor and industry expert for At Your Pace Online. In addition to his insurance license, Keith holds a Bachelor's degree in Finance, Master's degree in Education, and is a Certified Financial Planner and licensed insurance producer. As an entrepreneur, over his career Keith has owned and managed businesses in a wide range of professions, including car sales, financial consultation, and insurance sales and management. With over twenty years of experience in business, sales, and education, Keith brings a broad range of practical and academic knowledge to our courses.