California 4 Hour Annuity Contract Provisions Training
This class provides the full 4 hours of California-specific annuity training insurance producers must complete during each license renewal cycle following the completion of the initial 8 hour Annuity Training course in order to sell annuities in the state. It uses the mandatory state-approved outline as well as the suitability in annuity transactions training standards promulgated by the NAIC, along with a review of the most recent developments in annuity products.
The course covers the following topics: 
1. Annuity Sales Practices for California Insurance Agents; Suitability Training, including California Regulations on Suitability in Annuity Transactions, How to Determine Suitability, Record Keeping, Obligations of the Insurance Producer, Required Disclosures Illustrations, Replacement and Prohibited Sales Practices
2. Annuity Contract Provisions, including Age Guidelines, Premiums, Withdrawal and Surrender Charges, MVA, Waivers, and Withdrawal Privilege Options
3. Income Distributions, including Annuitization Options, Pure Life, Period Certain, Death Benefits.
4. Interest Rates: Simple vs. Compound, Portfolio-Based, New-Money-Based, Teaser Rates, Guaranteed Rates, and Caps 
5. Equity-Indexed Annuities: Terms, Strategies, and Choice
6. Variable Annuities: Documentation, Regulation, Options, including Types of Subaccounts, Administrative Charges and Fees, Riders, Living Benefit and Death Benefit Guarantees
7. Penalties for Violation of Provisions in Section 780 or 781 of the CIC and Administrative Penalties 
And of course, we don't charge you additional reporting fees!
Show Course ID: 0
Approved By:

California Department of Insurance
Instructor Bio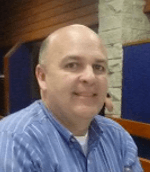 Keith Haley is the Online Insurance instructor and industry expert for At Your Pace Online. In addition to his insurance license, Keith holds a Bachelor's degree in Finance, Master's degree in Education, and is a Certified Financial Planner and licensed insurance producer. As an entrepreneur, over his career Keith has owned and managed businesses in a wide range of professions, including car sales, financial consultation, and insurance sales and management. With over twenty years of experience in business, sales, and education, Keith brings a broad range of practical and academic knowledge to our courses.