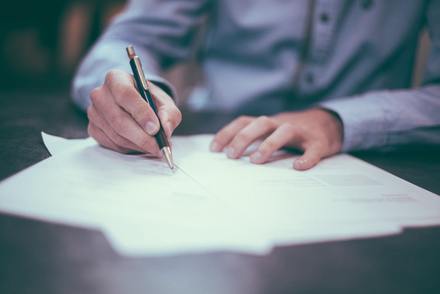 We've got to hand it to you, Massachusetts insurance producers. You've managed to get your individual producer license despite the fact that your state's Division of Insurance online licensing information is some of the most convoluted we've seen. We don't blame you if you've ever wondered, "How do I renew my Massachusetts insurance license?"
We spent some time digging and found that, fortunately, Massachusetts insurance license renewal is a simple, three-step process. Here's a quick guide to keeping your individual producer license active.
For starters, it's helpful to know that your renewal is due every three years on the renewal/expiration date listed on your license.
Step 1: Complete the required continuing education
Per 211 CMR 50, during the three-year renewal period, you need to take a certain number of continuing education (CE) hours if you have any of the following license types:
Life and annuity contracts

Variable annuity and variable life insurance contracts

Accident and health or sickness

Any property and casualty line(s)
If it's your first renewal period, you need 60 CE hours. After that, you need 45 CE hours during each renewal cycle.
While the Division of Insurance doesn't lay out many specific topics requirements for your CE, it's best to stick to your lines of authority when choosing your hours. 211 CMR says, "The requirements of 211 CMR 50.04 may be met by the licensee in any of the lines of insurance for which he or she is licensed. Licensees are encouraged to take at least one credit hour of approved instruction in each line for which they are licensed."
On top of that guidance, you do have one small topic requirement. Per Bulletin 2014-06, you need three hours of ethics during each renewal cycle. Don't worry, this doesn't add to your total hours requirement. You just need to make sure three of your 45 hours (or 60 hours, if it's your first renewal) focus on ethics.
The good news? You can take the Massachusets insurance producer continuing education you need online. With Division of Insurance-approved online CE, you can work through your hours at your own pace and on your own time.
Once you finish your hours, your course provider should give you a form showing that you've completed them. Then, your CE provider should report your course completion to the Division of Insurance for you.
Step 2: Send in your renewal application
While you used to be able to renew online using the Division of Insurance's OLLIE licensing system, OLLIE's no longer operative. Instead, for online license renewal, you'll need to use the National Insurance Producer Registry's online renewal tool. Click the "Go to the Online Application" button on that page to get started.
Alternatively, you can send your paper renewal application to:
Division of Insurance
Attn: Producer Licensing
1000 Washington Street, Suite 810
Boston, MA 02118
You need to get this to them before your renewal date, so it pays to send it in at least a week before you're due to renew. But don't seal that envelope just yet. There's one more piece to include.
Step 3: Pay the renewal fee
In order to renew your Massachusetts insurance producer license, you need to pay the relevant renewal fee. That fee is $225 unless your lines of authority include property, casualty, or personal lines. In that case, you pay a lead paint surcharge of $25 per year, totaling $75 for the three-year renewal period. That brings your renewal fee total to $300.
Make sure you pay your fee when you renew your license — whether you do it online or include it in your mail-in renewal application — so there's no delay in processing your renewal.
The Massachusetts Division of Insurance doesn't make it easy on you to get the information you need. But if you follow these steps, you should be able to renew your insurance producer license with relative ease.